Last step of my Enactus journey ?
Almost two years ago, I wrote (one of my very first posts here) about how I am starting with ENACTUS in my campus : First step of my Enactus journey ! In addition to sharing everything I know/learn about software development and making people learn programming, I was intending to write to students in particular. Still being one, I have a lot to share about it ! From Joining the Microsoft Student Partners community and tech-oriented clubs, to social entrepreneurship clubs like ENACTUS, or other out-of-studies experiences that any computer science student can live, given the example of finding and going for a summer internship abroad.
Starting, enjoying and writing about these activities is one of the many reasons I am loving my field, as we do not only write and debug code, we go even more practical by living different experiences and sharing them within cool communities of developers, geeks, and even entrepreneurs !
Coming back to where I started on " Almost two years ago " I joined the ENACTUS team on my campus. We had a busy year preparing for two projects on E-learning and Eco-tourism. We learnt/applied how to do needed market research for our projects' ideas, how to find the right mentors, how to find sponsors or investors who would  make the impact we conceived a reality, and most importantly, how to present all that and Convince ! We went through all the good and hard work but we unfortunately hadn't made it to the finals that year ! The final round was hyper-competitive and the trophy was held by our friends from IHEC Carthage, a school old and majestic enough to make it to the ENACTUS World Cup in London, UK !
To us, we lost the game but never gave up ! We continued on following the steps of ENACTUS ESPRIT alumni who made it to the ENACTUS World Cup Finals  just the year before, and did this Good in Toronto, Canada when presenting the two winning projects :
We carefully learnt from them this time. We called some of them to help us prepare, and we found the right Great mentors who helped us make a huge step towards the ENACTUS World Cup Finals 2018 In San Jose, California. It's actually The step towards the international finals ! As we won this time, again ! And we'll be presenting our country, through the two water conservation projects that we worked hard to bring to life, and which we presented in the local finals ! This picture could tell how great we did during the presentations :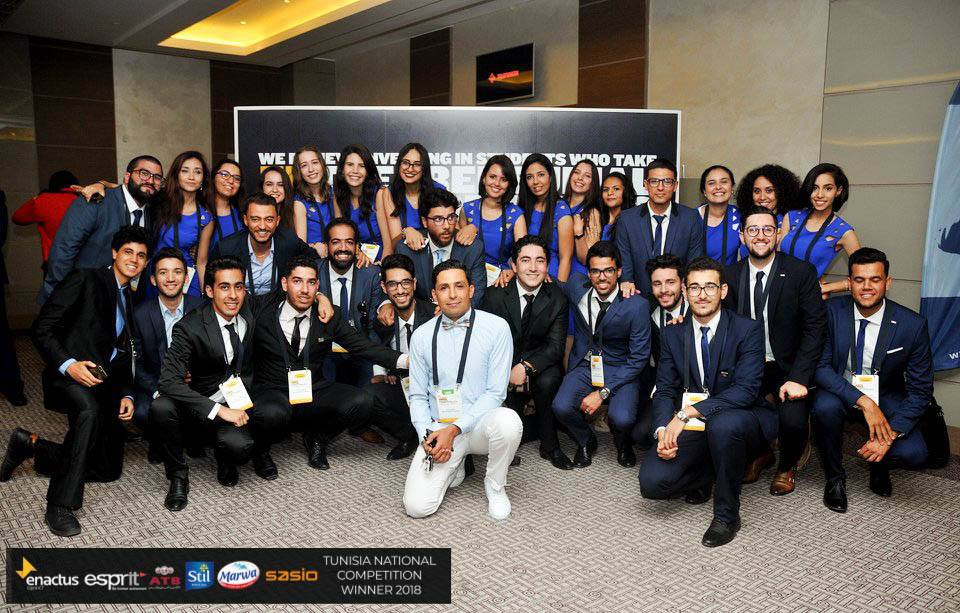 But where am I in the photograph  ?! No, you guessed it wrong ! I wasn't the one taking the picture ! I was on my desk preparing for something Great enough to make me miss out on this.
"Okay, but why are you telling us such detail ?", I can hear you say!
First, because it answers the question on the title of this post. This is my last step with ENACTUS, but it sure is the first with social entrepreneurship. I missed much meetings and valuable work for this mandate because I was busy with some raw work ! And I wont be a student any more so soon. So from now on, I am an ENCATUS alumni. Still, I will always write and share much about Enactus, and more, to students on this blog.
And second, because the details of what kept me from my Enactus work concerns software engineering and careers in tech, and I will be writing about it here soon enough. And it will be as much an addition to my readers as all my previous posts/tutorials are, or even more.
Meanwhile, I hope you enjoy reading my other posts and articles on CS students life and careers !