First step of my Enactus journey
I, like most of you, went to university with no idea of what I wanted  to do. I wanted to meet people, join different clubs and communities, and maybe study a little bit. I found out that it's really easy to do all of this. But, doing more than the basics actually takes an extreme amount of work.
Anyways, I did what I ' thought I wanted to do at university ', met alot of people, made great friends, joined an awesome community in which all activities were about technology and nothing but technology. But, the experience I acquired was not only about technology, I learnt how to create a mobile app and how to lead a team of passionate students, how to organize events and ' fail ' it, like a boss ! 
 , and how to take charge of budgeting issues and material ressources of my school. But, the most brave thing I enjoyed doing within this community was to share knowledge with and inspire students.
Then, when I moved to ESPRIT for my engineering studies, I thought I wanted to step back, take a break and concentrate on my studies (then I did all but concentrating on my studies ! 
 I actually got a disease called 'books addiction'). I received every kind of email suggesting to join clubs and organisations, I heard friends talk about events, I even helped some of them with their clubs activities. But I kept stepping back and only studying (reading books) .
Then there is Enactus
My first contact with Enactus was through a friend who was telling me she went off to Washington DC with some organisation that had something to do with buisiness. Okay, sounds cool to me. I liked to go with an organisation that competes internationally…the seed was planted.
The next trigger was that I heard about a brave project allowing  women to scan their upper body area and detect breast cancer at its early stages, and I was very impressed; and another awesome project consisting of a mobile app, from which, traders with limited knowledge about internet can buy their products through sms and ussd. Both projects won the national competition and made it to the Enactus World Cup in Toronto, Canada. That's where I switched ! They are impacting people's lives here ! this is huge, and smart, and inspiring.
So, I filled the participation form as soon as I received it, and I was selected for an interview. I passed the interview, and here is are some photos of our first meeting !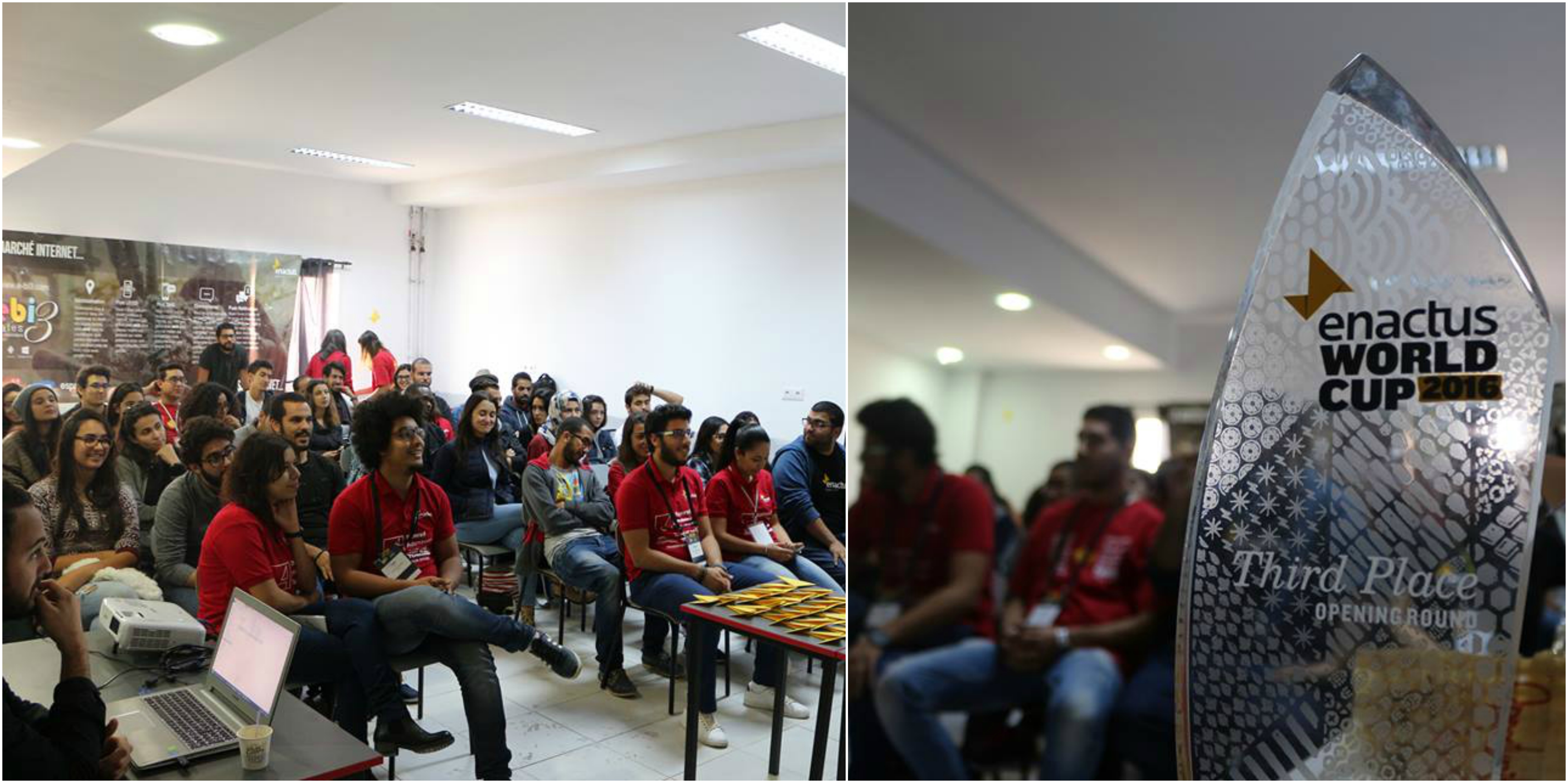 We got introduced to Enactus and informed about projects and the different cells we could join. And of course ' we had big fun for a big start ' ! Each one of us had an Enactus origami with a team member name written in it, and we went on an intresting, fun and stupid networking session, starting with the person whose name is in the origami. Ironically, I found my own name on the logo I got
!
But of course I couldn't help chatting with newbie and old timer Enactors.
Then, we started regular team meetings, and we initiated our first action for this year : Social Day by Enactus Esprit.
The Social Day
The eternal joy of bringing smiles to our community is the driving force for the Enactus team. While everyone is willing to work towards their personal goals, we at Enactus share our passion to work for the greater good of society. Which is why the Social Day became a ritual of Enactus Esprit. Each year, with the winter season starting, we make a call for donation of clothings, books and toys for children in different regions of  Tunisia. This year, we decided on the governorate of Seliana, in the north of Tunisia, which is actually the coldest region of the country. I had an excellent experience working in team when preparing for this event : we devided tasks, each cell was concerned and each cell member took a subtask in charge. From the design cell, to the social cell, passing by the communication cell, we all took action, and at some points when we were pressed by time, we exchanged missions between cells. I am part of the social cell, but when all communication team members were overcharged by exams and couldn't find time for some radio appearences, I helped.
Those screenshots showcase a little of what an Enactus team could go for !
We worked hard to succeed the action, and we had a lot of fun preparing ! We learnt that team work is an art, and that achievements and concrete results are the priorities of each team member.
Then, the event's day, we felt the joy being spread around the children we met in Seliana. We had a day full of emotions ! We learnt that helping others kindles happiness, and that we must stop our petty moaning once we've been exposed to other people's problems.
This video resumes some of the very much moments we lived in only one day.
So, where ?
Now I am only in my second year of engineering school, so my Enactus journey has just begun. I cannot wait to see where it will take me in the future.
If you are on the fence about joining the Enactus chapter at your institution, I highly recommend giving it a shot. Regardless of your role, it will allow you to develop yourself personally and professionally while making a positive impact in the community. What more could one ask for?