Ignite Talks : Why you should give it a go
Ignite is a worldwide phenomenon. What started as a relatively small event in Seattle in 2006, has now grown into 200-plus events around the globe. In Ignite each speaker gets 5 minutes, and must use 20 slides with each slide advancing automatically after 15 seconds, forcing speakers to get to the point, fast. Ignite is the presentation equivalent of a haiku or sonnet, it's simpler than Pecha Kucha but longer than lightening talks. Which makes it a very challenging format that can take forever to prepare, and a presentation junkie to present ! That's why I gave an Ignite talk over a week ago in Ignite Tunis#10 by Esprit. I am sharing what I learnt from perparing and presenting an Ignite and the reasons why you must go for it whenever you have the chance.
You will " Practice, edit, repeat. "
The good thing about Ignite speech format is that it makes you practice and edit your talk ! These are two things you never get around when doing a "normal" one hour tech talk. A very short presentation with slides that automate forces the speaker to be more concise and thoughtful than they would in any other format. I usually don't practice, but I practiced for my ignite talk. Not only that but I scripted the talk, since it's so short. So, after measuring the time, I started editing, cutting, and cutting, because 15 seconds is about 2 sentences and I had originally planned to say much more. Then I practiced again and edited again. It's amazing how much difference it makes when you prepare !
You have no control over your presentation
' But is this a good reason to give an Ignite talk ?! ' I can hear you say.
Yes, I thought it isn't too, until I tried it. Actualy, knowing that you wont be able to stop, no matter what happens, because your slides are moving and you have to keep pace with them; forces you to follow a strategy.a presentation strategy; apart from preparing your content. What follows is the method I used to prepare my slides, it may not work for everyone but it was successful for me and I would use it again.
Choose your message, develop it, then end with a call for action. In  Talk like TED, Carmine Gallo explains the power of three: one message, three main points, three sub points, one concluding call to action. This is a very smart format I recommand you use for any presentation you make. For Ignites, you have no choice: considering that you dont have much control over time, you must have control over your thoughts.
Don't get fancy with your slide. You wont have time for animation or music. Keep it simple. Have control over your content.
Ignites are fun
Ignite talks are vastly more entertaining than traditional lectures, for both audiance and speakers. I actually had the weirdest five minutes of my life presenting at Ignite !

In only five minutes, I stumbled, thought about recovering, and recovered; and by the time I did that, I had runaway slides to catch up with. I thought of my audiance and my body language, got frustrated, reminded my self that I should not expect consistency and certainly did other things that I dont remember by now. But, I remember it was fun !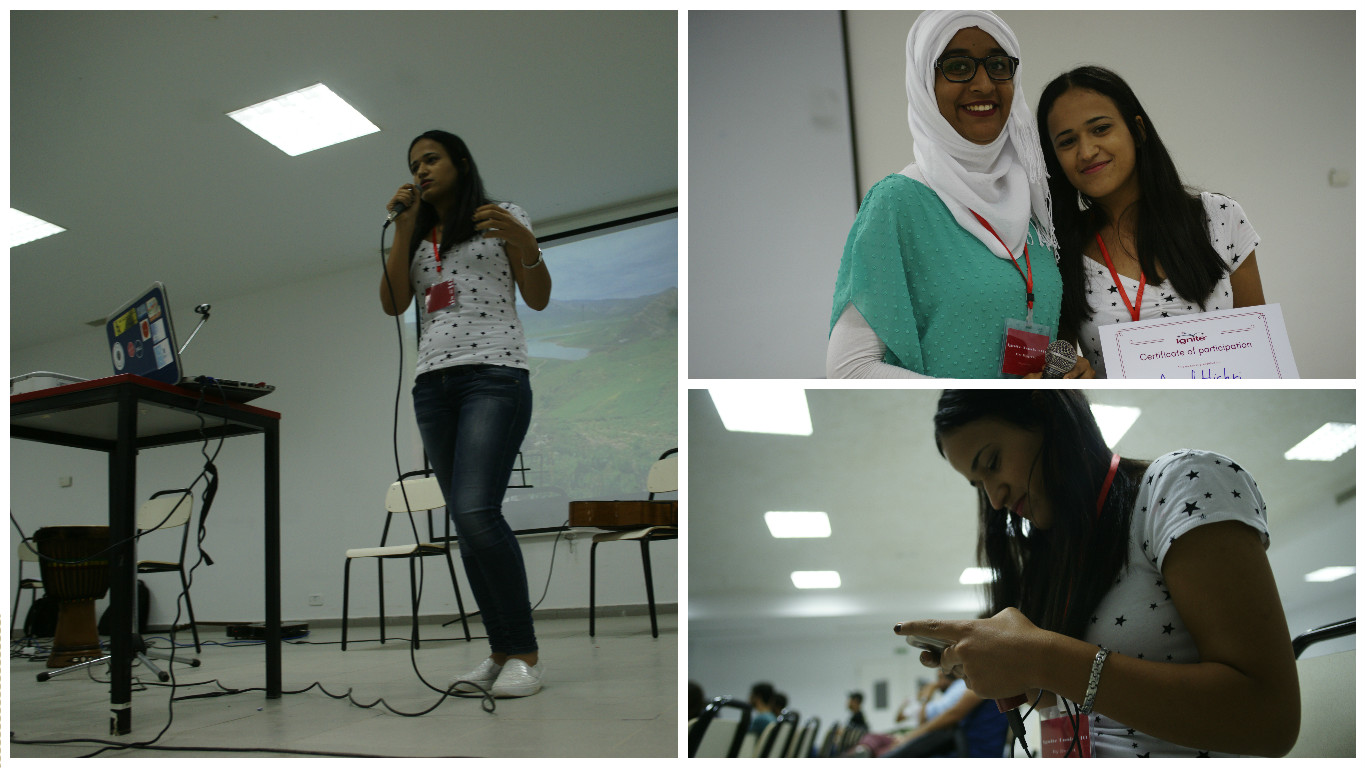 Would I do another Ignite talk? Yes. Despite their 'easy ' performance Ignites force you to be disciplined, to really master what you are going to say and how you are going to say it.
I strongly recommand you apply to do an Ignite whenever you have a chance. Actually, I am waiting for you to tell how was your own Ignite 
 comment it below, or, leave a link to your own blog post or youtube video about Ignite.
PS: Ignite Tunis#11 is coming soon ! Dont miss it out !