Spoke at a WomanWhoCode event. Flew back in a military aircraft!
This post is written for software engineers for the sake of story telling, and to share ideas for how, and how important it is, to build and expand one's network.
My last week in Malaysia and in my previous company went as crazy as this whole 2020 year is going! I resigned by end of January counting that my three months notice period will be enough for me to set up a new professional adventure… I ended up extending my notice period, working from home for the last two months, speaking at 'virtual' meetups and events, and getting evacuated to my country on a military aircraft !
This post resumes my participation at the LevelUp series organized by Woman Who Code and Microsoft during the lockdown in Malaysia. I will share with you how I got into the WWC community in Malaysia when the whole country and culture were new to me, and how I got speaking and training invitations later on. I will be telling you the story as bullet points or tips listings, as we do most of the times in our this-kind-of posts !
Rebuilding your network from scratch ?
If you are a new grad, a junior engineer, or an experienced engineer in a new community/country, you might need to plan building your (new) network thoughtfully. You will find yourself looking for meetups, taking extra breaks with new colleagues at work, and carefully searching for events and fairs. That was my case when I first moved out to Malaysia for my first software engineering job, leaving behind my Microsoft community in Tunis and its many talented techies.
I obviously started with the one and only Meetup, which lead me to the Woman Who Code KL community, and the Google Developers Group of KL. I was a simple attendee in GDG's night for Google I/O's live streaming, where we had pizza and snacks all night to watch I/O 2019 starting 1am. I tried to connect with the organizers and asked to join them as a member, which haven't worked on first attempt, but did on the second. Since then the GDG community offered me friends that I started meeting to plan dev fests as well as roundtrips and night outs !
It was the same for the Woman Who Code community, I attended one of their workshops held at Microsoft office in KL, and became a permanent attendee since then, to an organizer, to a speaker/trainee in their last series. GDG and WWC were " my two communities " in Malaysia, but I popped into different workshops and events from time to time.
Below are screenshots, instead of photos, of our last event in which I spoke about " How is software made " to an audience of different backgrounds: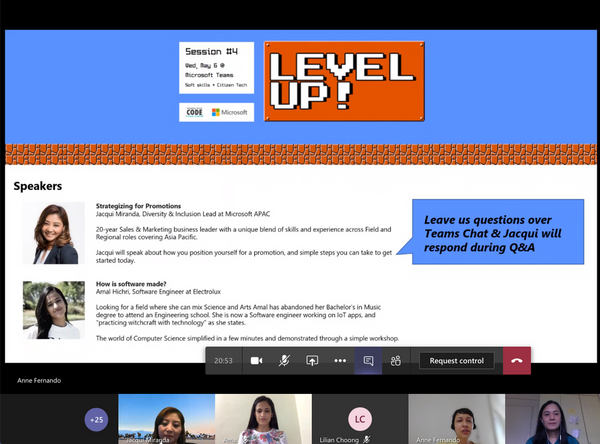 Apart from Meetup, I relied on, first, the circle of friends and connections I made through these Meetup events widening itself, and second, on other non-technical and non-IT communities events.
I tried to be part of as much relevant and interesting groups as I can. Doing so will help you expand your professional network as well, as we software engineers are everywhere!  As an example, my housemate invited me once for one of his Rotaract Club in KL gatherings, I accepted the invitation and I obviously met other engineers working for great companies in KL and Singapore through the Rotaract club. The club's activities became part of my weekly and monthly plans ever since.
A pandemic ? It's still a fun process !
The last 6 months of my experience with Electrolux were marked by the declaration of a "pandemic", where I had to work my last few months from home, and stay at home in my room on weekends. Staying home meant, for the first few weeks, limiting my meetups search, limiting my meetings with my Malaysian GDG friends, and only virtually meeting my colleagues on our regular work hours !
After few weeks we found our balance, and WWC started a series called "MCO series" where all events were switched to Microsoft Teams, and we started getting used to the "new normal". My focus shifted back again to the "nurturing and growing my network" bullet point of my planner, and I continued my usual activities, meetups and gatherings, but online!
Then one random work Tuesday, I got a call from my embassy saying that one evacuation military flight is planned to my country on Thursday, and that they got one last minute cancellation which made them call me!  I had to do all arrangements with my office, pack, and do all other -so many- travel related arrangements in 48 -no sleep- hours. I boarded the military aircraft passing by a totally empty airport.
Added to the fact that all this was "sudden", and I had to stop my work and trainings for few days until am safe and confined, the experience of being in a totally empty airport, flying for 22+ hours on a military aircraft, along with all the usual awkwardness of pandemic era travel was uncomfortable, interesting and fun!
I continued my training sessions with Woman Who Code from my 15 days confinement hotel room, and I took my time to re-arrange other work related things during these days. I did my best to keep my contact with my network and friends in Malaysia, and I will keep on doing for the next six months or more of my stay in my country.
Engineer first, everything else second
Speaking about popping into random workshops in the first section, I was attending a devOps workshop at Accenture offices in Kuala Lumpur when I met an Accenture recruiter who months later, recommended me for an Accenture in Singapore engineering role. And it was during one Rotaract event for pets without shelter that I got the chance of freelance work on a pets mobile app for Malaysian pets adoption center alongside other developers. Examples like these two are countless, especially from the times I was a student in CS bachelors and engineering in Tunisia.
Being opened to networking and showing up in all, or different, sorts of events and occasions while keeping your engineering background in mind, rewards you with interesting opportunities for projects, job offers, interesting connections, and more! So do be active, find much, SO much, time for out-of-office activities, be creative and never limit yourself to few scrum deliveries during your work week! What you do out of your work hours matters and impacts your work quality as an engineer, so always keep your engineer spirit on and pick your activities accordingly.